Who Are We?
Save A Life, Inc. is a local coalition non-profit focused on supporting a recovery network for persons affected by substance use disorders in Lincoln, Maine. Save A Life, Inc. understands drug control is not solely about governments and law enforcements, it is about families, teachers, youth leaders, and communities that care! It is critical for rural communities with a vision to provide strategies with outcomes of creating a network of recovery resources, inspiring hope, mobilizing internal and external resources, and increasing trust to carry out a successful community recovery program.
The Save A Life, Inc. Recovery Network includes local people representing a diverse cross-section of the community and provides strategies for ongoing community-based recovery resources. In April 2021, Save A Life purchased the Beacon of Hope Recovery Resource Center which hosts community recovery resources and activities.
Where Are We?
Save A Life is based out of Lincoln, Maine in Penobscot County. Our main building, the Beacon Of Hope, is located at 19 VFW Drive, which is just beyond Clay GMC on Main Street. We take great pride in our community, as community is vital to the recovery process. Finding a place in a community is essential for developing the tools to create new coping skills and healthier habits for interacting with others in positive, sober spaces. Community belongs in early recovery because community is part of the human experience.
What Services Do We Provide?
The Save A Life, Beacon of Hope Recovery Center in Lincoln, Maine provides recovery community activities, offers non-faith-based recovery group meetings, connects persons with faith-based recovery group meetings, and gives other community recovery support activities. Some of the services we provide include:
Recovery Coaching – 

Save A Life, Inc. connects persons seeking recovery or persons in recovery with a recovery coach.

Recovery Coach Training –

Save A Life, Inc. hosts certified recovery coach training for community members.
What is Recovery Coaching?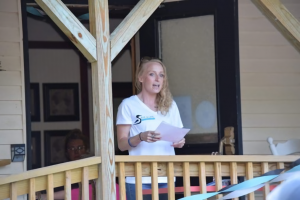 Recovery Coaching is a form of strengths-based support for people with substance use disorders or in recovery from alcohol and other substances, codependency, or other addictive behaviors.
A Recovery Coach plays a valuable role as a guide and mentor to support individuals in or seeking recovery, to identify and overcome barriers, navigate resources, and achieve goals toward a life of wellness and purpose. Recovery Coaching is a basic need for persons seeking recovery or persons in recovery.
How Can You Help?
Please visit our Donate page to see instructions on how to contribute financially to us. Also, if you have ideas, suggestions, or any other way you can help us achieve our mission, please call us at (207) 403-9100. Thank uou.