More About Save A Life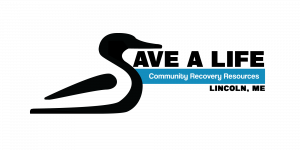 WHO WE ARE...SAL, Inc. is the only local non-profit focused on substance use disorders treatment and recovery in the Lincoln Lakes Region. Using only volunteers with limited direct monies, SAL, Inc. began to build community partnerships, implement community recovery resources, and deliver education and outreach to achieve the mission of planning and implementing programs in the rural Lincoln, Maine area that raise awareness and to educate the community on the prevention and treatment of substance use disorders, as well as to provide support surrounding drug and alcohol issues and addiction.
In February 2018, the state of Maine, Secretary of State officially approved SAL, Inc. as a domestic non-profit corporation in the state of Maine.
WHERE WE'RE COMING FROM… In December 2020, SAL, Inc. received the first allocation from the Maine Department of Health and Human Services grant award to implement a "start-up" resource center. In a short twelve weeks, SAL, Inc. on boarded a part-time executive director, part-time office assistant/volunteer coordinator and secured office space. In addition to on boarding staff, SAL, Inc. met with the State of Maine, Director of Opioid Response, RALI-ME, Bangor Public Health, United Way of Eastern Maine, and other state-wide partners, submitted six grant proposals, and completed several board operational updates.
WHERE WE ARE GOING… SAL, Inc. past and future strategies align with the Maine Opioid Response: 2021 Strategic Action Plan focus areas of leadership, treatment, prevention, and recovery support. By 2023 SAL, Inc. plans to build a three-year strategic plan with a high level of community input, seek private and public grant monies to execute the strategies within the focus areas of leadership treatment, prevention, and recovery support resources for the Lincoln Lakes Region.
HOW ARE WE GOING TO GET THERE… "Planning is bringing the future into the present so that you can do something about it now.", by Alan Lakein. Per Lakein's quote, SAL will bring the future to the present by developing a three-year strategic plan with a high level of input from the SAL Task Force and community partners. The strategic plan will serve as the SAL, Inc. roadmap to deliver our community recovery resources during the upcoming years.